Ahhh, the summer holidays.  I wonder how you read that "ahhh".  Ahhh as in "help" or ahhh as in "phew".  The summer holidays can be an almighty sense of relief for some parents, but for others, they can be quite the opposite and somewhat daunting.  Six endless weeks to fill with activities and entertainment.  As many of you who regularly read my blog will know, I love to get outdoors.  However, I was struck by an incident this week which helped me to realise again, it's all about getting the balance.  For me, outdoors is job-free and often cost-free, whereas indoor time (for me) can become job-full and frustrating.
On Saturday morning Poppi took herself upstairs and spent at least an hour (possibly more) amusing herself. She told Daf and I that we weren't allowed into her room because she was sorting out her sequins. Her slight obsession with sequins has led to some rather challenging and, dare I say, ridiculous, behaviour recently. Any glimmer Poppi sees outside will stop her in her tracks so that she can inspect it. When asked to leave it, or if, heaven forbid, she loses it herself, the tears that follow can be a little over the top!
However, Saturday morning taught me two things.
Poppi actually loves sequins right now, and if she loves to play with them as much as she did on Saturday morning then maybe I need to back off in my annoyance for the inconvenience they sometimes cause.
Poppi really valued this indoor time to express her creativity in quite a different way. When we were finally allowed into her room there were piles of sequins everywhere, and to be fair to her, she tidied them all up with just a little help at the end.
Now, don't get me wrong…it is a rarity Poppi will entertain herself for that long.  She usually follows me around like a puppy and that is why I try to get out so often.  However, one thing I am trying to learn as a parent (and I mean learn) is that my ways might not always be her ways and the way she expresses herself is very likely to be different to the way I do.  Structured time is good for kids, but a great skill to learn to manage is unstructured time.  As parents/teachers, we very readily provide structured games or tasks to help children learn.  Nevertheless, the real learning happens when a child starts at their level and works from there.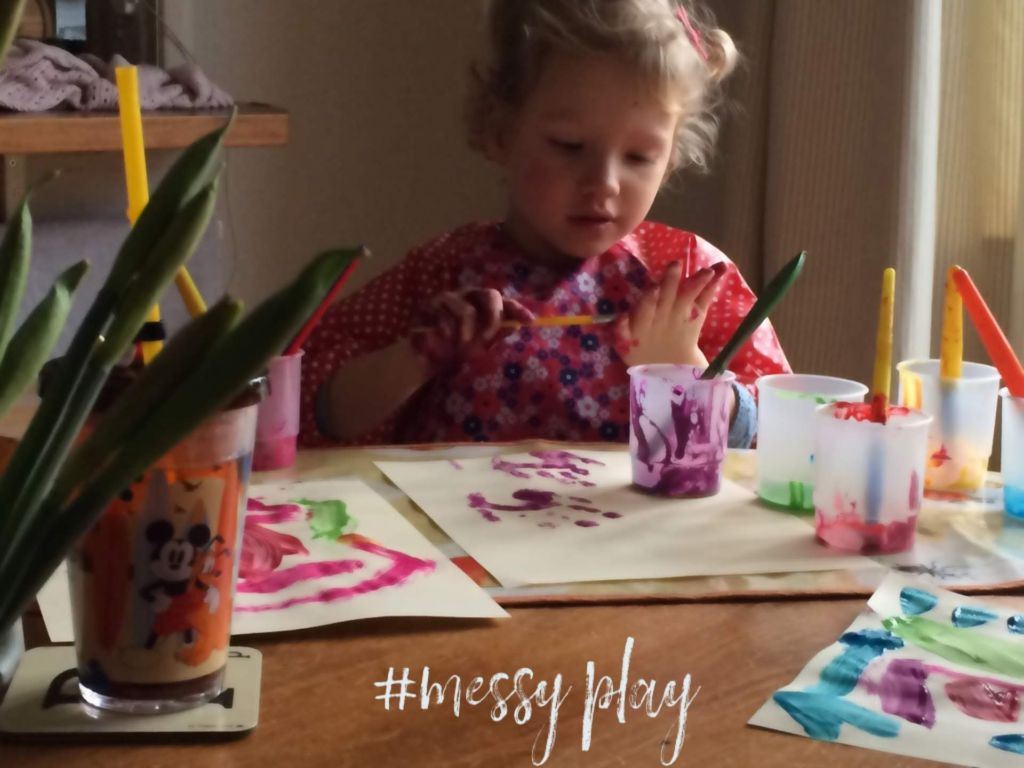 Poppi loves to paint. Another great way to express. The problem I then have is paintings lying all over the house. So, today I am going to share a couple of ideas we have devised to utilise the numerous paintings. A good indoor activity for when you've had enough of the outdoors!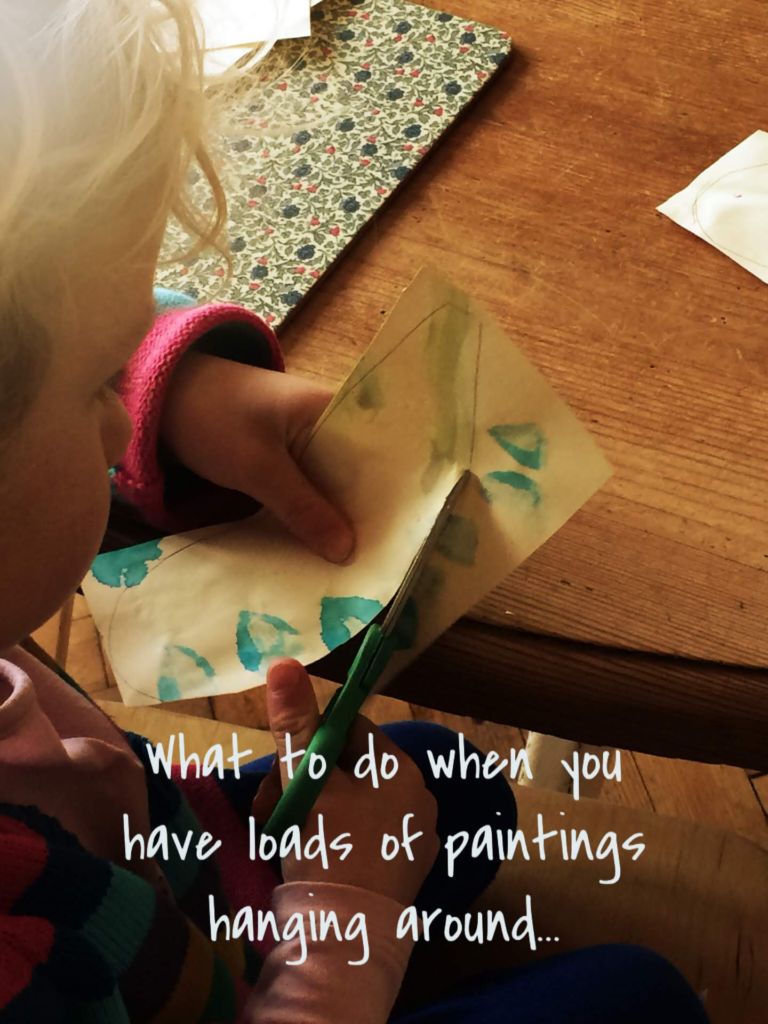 Poppi has a lovely book There's a tiger in the garden by Lizzie Stewart.  In the story, Nora reluctantly heads out into her grandmother's garden and discovers the wonders of her imagination.  She finds "dragonflies the size of birds", "plants that want to eat you" and much more.  Poppi and I decided to transform some of her beautiful paintings into dragonflies, butterflies, and trees.
There are no hard and fast rules for creativity, but this is what we needed:
Paintings
Cardboard for a template
Scissors
Glue (fairly decent stuff)
Sticks
Cotton
Embroidery hoop
And here is what we produced…